gearbox: next level riding
Gearbox bikes have a central, low centre of gravity for excellent handling and unrivaled riding dynamics. And minimal maintenance together with a superior, perfectly graduated gear range.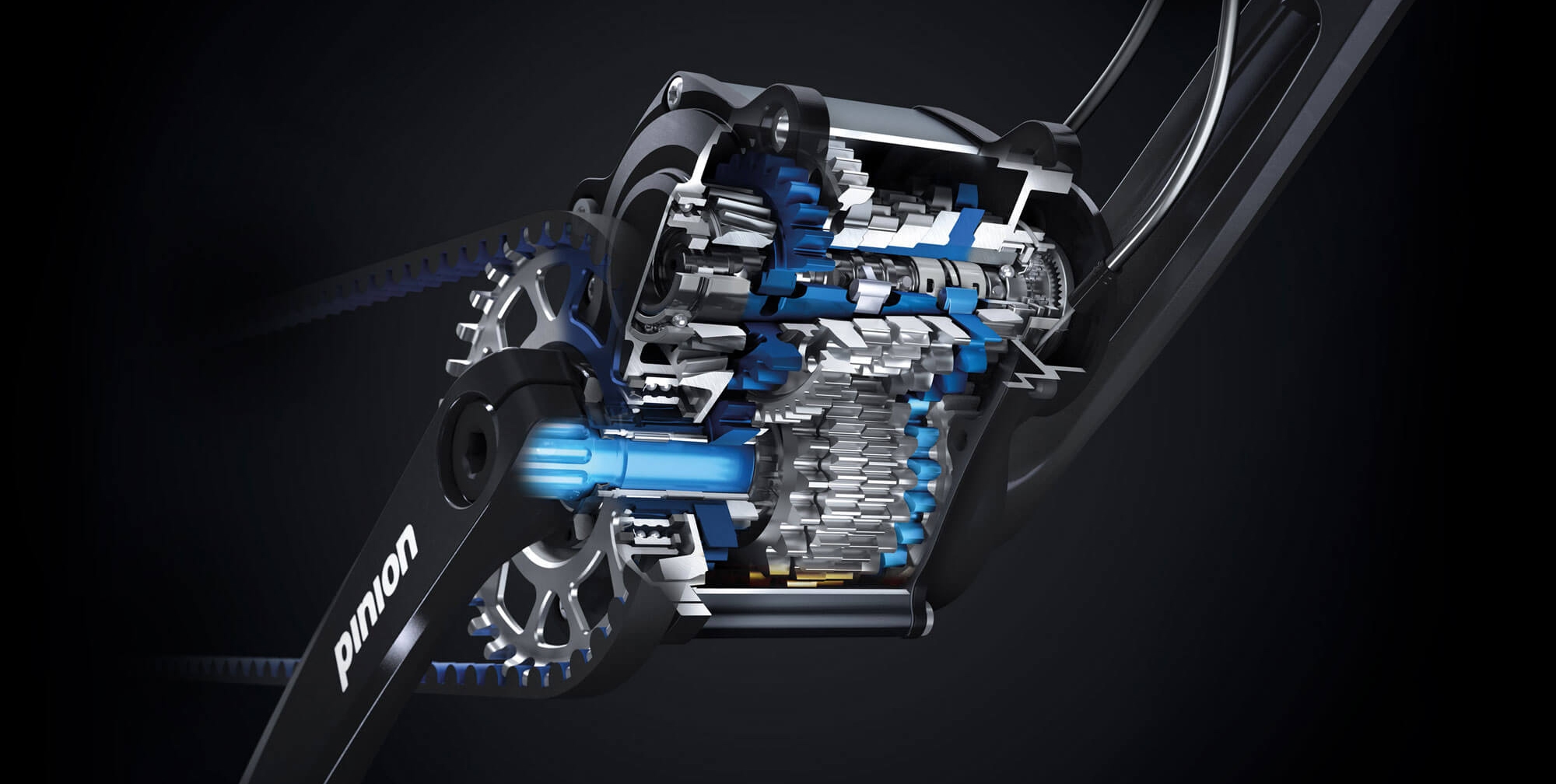 Gearbox mountain bikes are made tough for your next offroad adventure.
Whether it's a multi-day tour, a demanding enduro stage, or a World Cup downhill course, gearbox shifting is the definition of consistent and reliable performance.
Quick line selection, railing corners, and increased stability in technical sections! The central positioning of the gearbox in the frame reduces the unsprung mass and increases rear suspension sensitivity. This results in a responsive, lively ride feel and increased grip on every trail surface, more confidence.
With 600 % range and evenly spaced gear steps, the Pinion C1.12 gearbox leaves derailleur drivetrains in its dust. It is almost maintenance free and eliminates the risk of bending or breaking your derailleur.
Shifting a Pinion mountain bike is up to five times quicker then shifting a derailleur bike. And you can even shift when coasting or standing still. It takes a few hours to get used to, but gearbox shifting is surely a big step forward.
fast shifting
Gearbox bikes can be run with either Pinion's DS2 grip shifter, Pinion Smart.Shift or with our intuitive trigger shifter. In all cases; shifting is fast, instant and precise.
The Pinion DS2 grip shifter is great for shifting a number of gears up or down with a single action. It is light, clean and very fast.
The Instinctiv Trigger Shifter offers an interaction that is resembling a derailleur shifter with the speed of a gearbox.
The system has two stacked levers for thumb actuation. It allows you to shift one gear heavier, or one or two gears lighter with a single thumb stroke.
smart.shift
Pinion Smart.Shift electronic shifting is very quick and precise with a push on the button. The battery is fully integrated into the frame, from the outside you hardly see there is an electric shifting system on board.
The Smart.Shift gearboxes differ from the normal C line gearboxes in their internal structure. The shifting mechanisms and sensor technology are the main differences.
The ergonomic shift lever was specially developed for electric shifting. The rubberised button surfaces provide ideal contact points for the thumb and the haptic button tuning ensures precise shifting.
"Shifting gearbox bikes is a different experience. It takes a few rides to get familiar.
Once you are used to the instant response, who wants to go back to grinding gears on a cassette?"
With the gearbox drivetrain you will have a huge 600% gear range, about 20% more than an SRAM Eagle layout.
chainring
30T x 26T
30T x 30T
The Pinion C1.12 provides equal gear steps throughout all gears making your selected gear ratios more predictable than ever.
efficiency
What happens to the watts you put out? How do Pinion gearbox bikes compare to a conventional derailleur in terms of efficiency?
The short answer is that out on the trail, in varied terrain and changing conditions, it is practically impossible to notice any difference.
Efficiency depends to a large extent on the load situation gear, which is why we cannot pin a single number on any drivetrain efficiency.
Studies have shown that the efficiency of the Pinion drivetrain ranges from 91% in the heaviest gear to 98% in granny gear.*
For comparison, a derailleur layout, under perfect 'laboratory' circumstances, has an efficiency of 93% to 98%**.
However when dirt comes into play and builds up the efficiency tends to drop a good few percent.
A major benefit of the gearbox drivetrain is the straight, constant chainline, ensuring great efficiency between chainring and rear wheel. This in contrast to derailleur layouts where cassettes seriously compromise the chainline at either end of the cassette.
We believe you can do the math. Yes our gearbox drivetrain weighs around 600 – 800 grams more than a conventional 1×12 derailleur groupset.
However about 600 – 900 grams of weight is moved from the rear wheel to the frame. This makes the rear wheel lighter than ever before, the suspension is more responsive and riding losses while riding over rough terrain are reduced. And during climbing it is difficult to notice the extra weight.
A Pinion gearbox on your mountain bike means more time on the trail! The gearbox runs in an open bath and is self-lubricating, requiring only an oil change every 10,000 km. Gone are the days of constant drivetrain maintenance and high replacement part costs! Your calendar and your wallet will thank you.
Pinion gearboxes are used all over the world, in all conditions no matter how challenging. They have proven their robustness in numerous round-the-world rides. Ice cold temperatures at the Arctic Circle or sweltering desert heat do not present a problem for these transmissions.
High altitudes, humid conditions or even the occasional transfer through a river is not a problem either if you occasionally check and make sure the inside of the gear shift box remains well greased.
The Pinion gearboxes have an initial period when they are getting dialled-in. From day one they are fully functional and can be strained to the full of your ability. However throughout the first few hundred km the gearbox will run ever smoother as components are getting tuned in.
A transmission always gives the impression that it runs less smoothly in the high gears. This is due to the gear ratio in the transmission, and it is just a perceived effect. In actual fact, a Pinion gearbox mountain bike runs with silky smoothness in all gears.
* 2017 ASEE Zone II Conference An Experimental Study on the Efficiency of Bicycle Transmissions R. Bolen and C. M. Archibald Grove City College, Grove City, PA
** Efficiency Measurements of Bicycle Transmissions – a neverending Story? by Bernhard Rohloff and Peter Greb, Wirkungsgrad von Fahrradantrieben von Prof. Dr. Ing Hubert Hinzen, Fachbereich Technik, Hochschule Trier